Top Trends At Your Diamond Jewelry Store
Jun 28, 16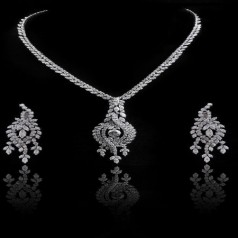 Jun 28, 16
When it comes time to buy a special gift for your loved one, nothing speaks more by saying less than a diamond. Diamonds have long been celebrated for their beauty, and their versatility as a gift. Diamonds come in rings, necklaces, bracelets, and earrings and are almost always cherished by the person who receives them. It can be tricky to know exactly what to buy, however, especially if your recipient has eclectic or varied tastes. Here are just a few of the top trends at your local diamond jewelry store, to help make your diamond buying experience just a bit easier.
Vintage
Vintage jewelry, especially vintage items containing tons of smaller stores, is incredibly popular. The reason? It's so versatile it can be work with just about every look while still maintaining a classic charm and elegance. Diamonds set in rose gold are increasing in popularity, as are those set in hearts and infinity knots.
Informal And Casual
Another emerging trend is diamonds set in pieces that can be worn everyday, not just on special occasions. They add a bit of sparkle and something special to everyday work attire, making versatile pieces that can be mixed and matched with a number of different outfits highly sought after.
Larger Stud Earrings
Stud earrings have always been in style, but as time goes on, they have gotten larger and larger in shape. Now, studs that are 0.5 carats are flying off the shelves. These simple yet powerful earrings make a fashion statement without being overpowering.
Black And White
Black and white items, mixing black rhodium with sparkling diamonds, go hand in hand with the informal trend that has been emerging in popularity. They make for pieces that can be work with just about any other color combination, and are as eye catching as they are simple.