A Newbies Guide to Buying Belly Button Rings
Sep 26, 17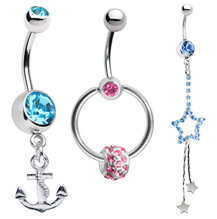 Sep 26, 17
Navel piercings seem to have gained popularity over the course of recent years but have actually been around quite a long time. Historically speaking there is evidence that suggests the earliest wearers of the belly button rings were male, and actually denoted a special royal status in certain cultures like Ancient Egypt. Regardless of the original intention, in present days the belly button ring is now almost as common as traditional ear piercing itself.
Belly Button Rings Aplenty
Today the belly button ring is a seemingly limitless art form, hindered only by our imaginations. From the type of metal or material used right down to the design. You can be sure that if you can think it, then it can be done. With all the different options available it is the perfect way to showcase and enhance your personally unique look without making a drastic change to your appearance.
Types and Styles of Belly Button Rings:
Titanium Belly Rings
Dangling Belly Rings
Banana Belly Button Rings (Standard Barbell)
Reverse Belly Rings
Acrylic Belly Rings
14k Solid Gold Belly Rings
Belly Button Shields
Maternity Belly Button Rings
Choosing a Belly Button Ring That is Perfect for You
When selecting your belly button piercing it is important to note if you have certain metal allergies, and take that into consideration when choosing your jewelry. If you are unsure of how your body might react to certain materials, it is a good idea to stick with high-quality metals like 14k gold or surgical steel in order to avoid any possible skin reactions. If you already have a belly button piercing or are thinking about getting one, do your research to find the perfect quality and style of belly button jewelry for you. When you are looking to buy belly button rings check out reputable body jewelry websites such as bodyjewelry.com to hand select the style and metal material that perfectly suits your unique style and needs.