4 Tips to Finding Comfortable Post Surgery Bras
May 24, 16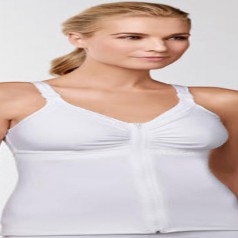 May 24, 16
There's nothing like beating cancer to make you feel like you're on top of the world. That is, until it comes to shopping for new bras. Don't let it stress you out, though. Here are a few pointers to make sure you find the best post surgery bras to suit you:
Wide straps win
Wide adjustable straps win over thin ones any day. They're better designed to provide you with as much support as you need. And unlike thin straps that often dig into your skin, leave lines and make you feel like a trussed-up turkey, wide straps are more comfortable. Also, the Mayo Clinic says they reduce the risk of lymphedema, which is a common problem for breast cancer survivors who've had their lymph nodes removed or damaged from the cancer treatments.
Deeper cups
Deeper cups offer more support for your implants. These cups accommodate and keep them secure which is essential to getting an ideal and comfortable fit. Also, deeper cups, especially those that fit close to your breastbone, keep your breast form from getting seen even when you bend over. That's the kind of protection you need on a daily basis.
Go wire-free
Because wires can rub against incisions or scar tissue, it can get uncomfortable fast. Wear bras without wires instead. You'll feel better as soon as you put them on.
Soft fabrics and seams
Anything that rubs against your skin is a bad idea. Go for soft, smooth fabrics that won't irritate your skin or rub against it for better comfort. That's the best kind for you after your breast cancer treatments. With soft fabrics, irritated or inflamed scar tissue won't be a problem.
So keep these tips in mind when you start stocking up on your new bras. By knowing what makes for a comfy and ideal fit, you can cope with and recover from the experience much, much sooner.