Qualities of the Best High Impact Sports Bras
Jan 03, 20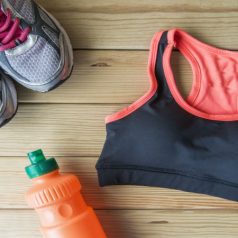 Jan 03, 20
Hunting for the perfect sports bra can be a process of trial and error. After all, not all high impact sports bra manufacturers follow the same testing guidelines to determine the quality of their final product. One brand's interpretation of high impact can be another manufacturer's idea of low impact. However, you can compare your options like a pro by incorporating the following strategies below.
No Movement
When comparing the best high impact sports bras, be sure to consider how much movement it allows for. This is especially important for large cup sizes that are prone to uncomfortable movement during exercise. High impact bras should keep your breasts in place without being overly tight or suffocating.
Closure
The closure style used on the best high impact sports bras typically include zipper and hook closure options. Hook and eye closure is ideal for most cup sizes. However, larger cups may prefer a zipper closure style a this can be easier to use and more comfortable overall.
Padding
High impact sports bras typically do not incorporate padding. However, they tend to offer some level of support for comfort. When possible, try on different options to see what feels right for your body and type of activity that you enjoy doing.
Selecting a new sports bra that is built to withstand high impact sports can be a challenge, but these shopping strategies can make the process easier. When shopping, be sure to read the return policy in case you need to exchange an item.